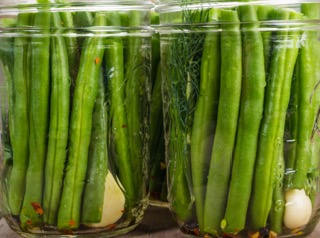 Pickling 101
By: Emily Snodgrass, UF graduate of Health Science
Pickling has been around for thousands of years, dating all the way back to 2030 BC, but pickling isn't strictly pickles. Pickling is a great and easy way to incorporate an array of new veggies into your diet! From carrots, to squash, to onions, to tomatoes, the possibilities are endless.
When tackling this technique out for myself, I decided to try my hand at green beans. In the past, I've tried pickled green beans (also referred to as dilly beans) and I loved how they always had such a powerful snap when biting into them.
No matter what vegetable you decide to pickle, it's very important that you are using fresh ingredients to get that signature crunch you're looking for. I also blanched my green beans to unsure the snap!
Here is a list of things you will need to pickle your veggies:
– Mason jar with lid
– 1 tbsp. salt
– 1 lb. of green beans (or veggie of choice)-1 cup vinegar (I used apple cider but white works as well)
– 1 cup water
– Herbs (I used 2 fresh dill sprigs)
– 2 cloves of garlic (crushed or sliced if you want the garlic flavor to be more prominent)
– 1/2 tsp. red pepper flakes (if you aren't afraid of some spice)
– 1/2 tsp. mustard seeds
Instructions
1. Prepare the beans: Rinse the beans under cool running water and drain well. Trim the stem ends from the beans
2. Add the spices to the jars: Place the garlic, red pepper flakes, mustard seeds, and dill in the jar.
3. Pack the green beans into the jars: Stack the beans in the jar, so that they are placed upright.
4. Make the pickling brine: Combine the vinegar, water, and salt in a small saucepan over high heat and bring to a boil. Pour the brine over the green beans, filling each jar to within 1/2 inch of the top. Remove excess bubbles, using more brine if needed.
5. Cool and refrigerate: Let the jars cool to room temperature. Store the beans in the refrigerator. The pickles will improve with flavor as they age — try to wait at least 48 hours before cracking them open, and enjoy!