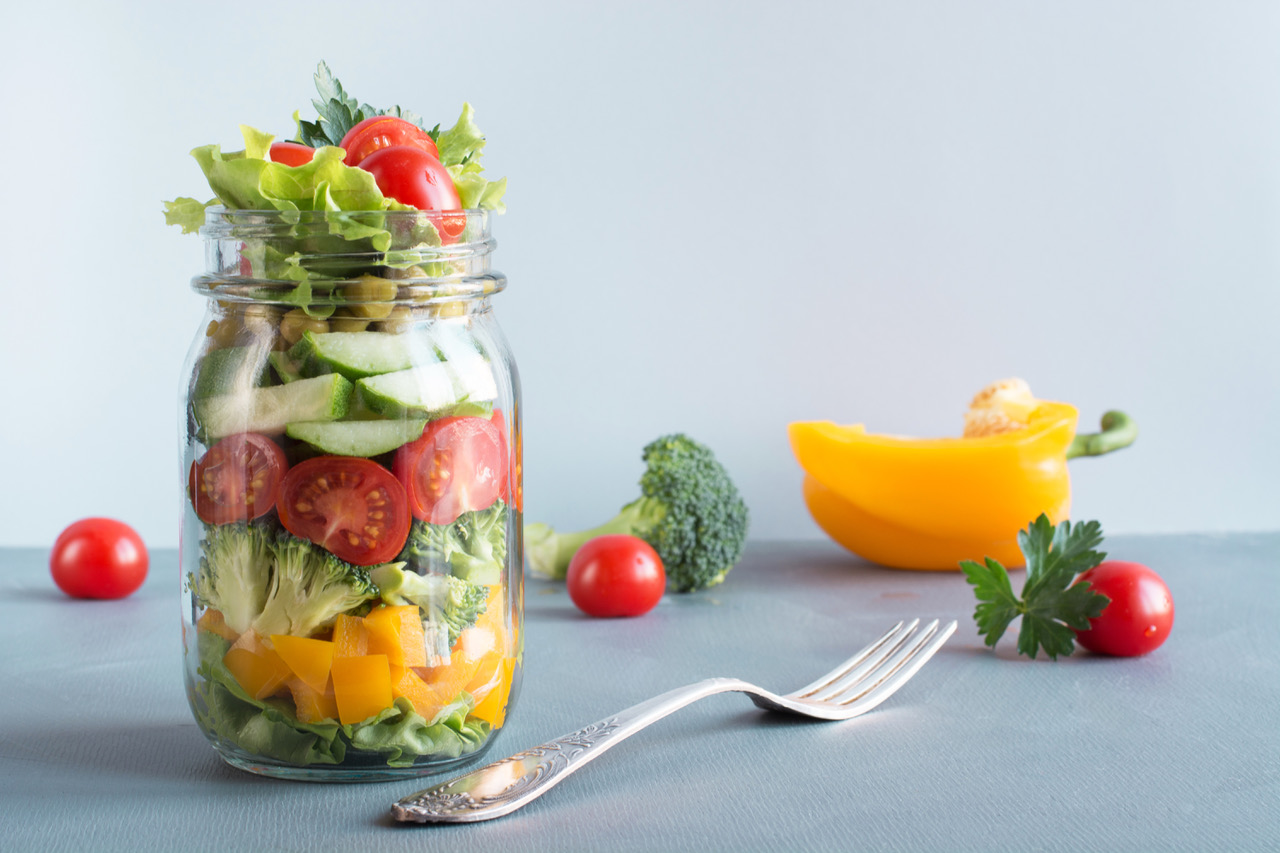 Mason Jar Salad
Written by: Emily Snodgrass
Move over plastic storage container, Mason Jars are here to stay! Lunchtime at work, or on the go, can be frustrating times. You need something quick, convenient, satisfying, and best of all a healthy meal to fuel your body for the rest of the day.
One of my favorite solutions for this problem is "Mason Jar Salad". If done right, you can make lunch for Monday thru Friday at once and preserve it for the whole week without going "bad" or "soggy".
How To:
Layering is key! You can use a variety of dressings (following the guidelines of no more than 2 teaspoons of olive oil a day, if you're on phase 1), but it's important to add the dressing into the jar first. This ensures that the ingredients you prefer dry, stay that way. 
Next into the jar, you're going to add your crisp ingredients such as (and not limited to) tomatoes, onion, celery, peppers, cucumbers, green beans, and jicama.
This next layer is for ingredients that shouldn't swim in the dressing, but it's okay for them to get a little wet. A few ideas might be, mushrooms, radish, and zucchini.
Now, add more delicate ingredients like hardboiled egg, and cauli-rice.
Now it's time to add the greens. From lettuce, to spinach, arugula, kale, to watercress, the possibilities for your "Mason Jar Salad" are ENDLESS!
Lastly, simply put your Mason Jar salad in the refrigerator for later, or take it go!
When you're ready to enjoy, simply give it a good shake, turn it upside and enjoy!
If you need ideas for great dressings, Rose has posted a few on the IWM facebook page.  Here's a few of our favorites and some extra ideas: 
Homemade Dressings (Phase 1 Legal)
Cilantro Garlic Dressing
1 cup of fresh cilantro leaves

2 garlic cloves

1/4 cup of olive oil

2 Tbsp Braggs Amino Acids

1 lemon juiced

fresh ginger
Makes 6 servings of 2 TBSP, each would include 2 tsp of olive oil.  You can easily water down this dressing and cut your olive oil.
Simple Skinny Dressing
2/3 cup apple cider vinegar

1/3 cup olive oil

sea salt and pepper (to taste)

1 lemon (or lime) juiced

dijon mustard (to taste)
Makes 8 servings at 2 Tbsp each.  Each serving includes 2 tsp of olive oil. 
Tofu-lly Terrific Cesear Dressing
2/3 cup (about 5 oz) firm silken tofu

1/4 cup water

1/4 cup lemon juice

2 Tbsp Braggs Amino Acids

1 Tbsp white wine vinegar

1 Tbsp dijon mustard

2 cloves garlic

ground pepper
Makes 10-12 servings of 2 Tbsp each